Piedmont Zesto closing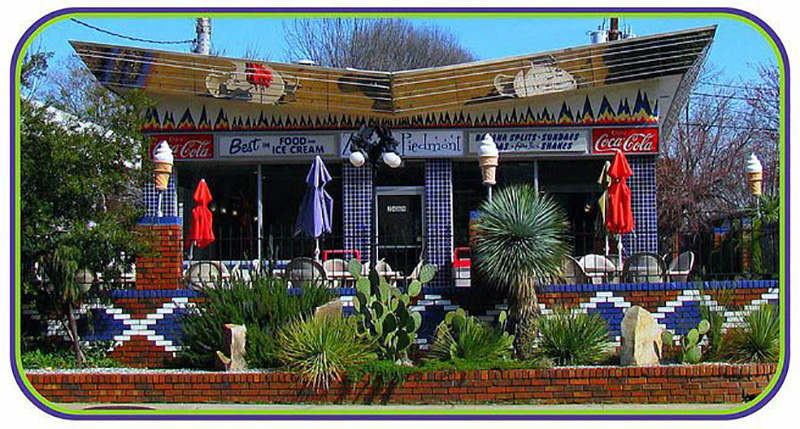 It is with heavy hearts that we announced that our longstanding Zesto Drive-In restaurant at 2469 Piedmont Road in Buckhead closed on Sunday, September 18, 2022. This neighborhood landmark began by selling only ice cream in 1952. The original walk-up stand at the corner of Piedmont and Lindbergh later added burgers, chili dogs and fries, and was remodeled complete with curb service. It was remodeled again in the early 60s. It was relocated to its present home in 1971. It too has gone through a few incarnations, and has been featured in numerous tv shows, music videos and movies.
Although this property has been sold, our two other Zesto corporate locations in metro Atlanta remain alive and well, where customers will find the same ice cream treats, Chubby Deckers, "Footlong" Chili dogs and the unique Zesto Atlanta experience.
Your patronage, and our loyal employees and family members have kept Zesto going since my Dad brought Zesto to Atlanta in 1949! We raise a swirl cone to you all.
We look forward to celebrating our 75th anniversary in Atlanta in 2024.
Thank you,
Jimbo Livaditis
President
Please continue to visit Zesto at 1181 United Ave at Moreland, 151 Forest Parkway at Old Dixie Hwy and at 22 Carriage Oaks Drive in Tyrone!
MixCloud

February 9, 2022
Zesto sponsored interview with the Beatles on WQXI radio in 1964

AJC

May 10, 2021
Zesto in Little Five Points closes indefinitely after tree damage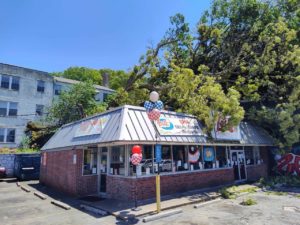 Zesto restaurant in Atlanta's Little Five Points neighborhood has temporarily closed after a large tree fell on it last week. Owned by husband and wife Jimbo and Leigh Ann Livaditis, Zesto also has locations in Buckhead, East Atlanta, Forest Park and Tyrone. Leigh Ann Livaditis told Eater Atlanta that the couple is "assessing the extent of the damage this week" while deciding if and when to reopen.
Zesto began in Atlanta in 1949 as a walk-up ice cream stand on Peachtree Road, across the street from Brookwood Station in Buckhead. Its roots in the region date back a year earlier, when Jimbo's father, John Livaditis, was hired by the Taylor Freezer Corp., manufacturer of the Zest-O-Mat soft-serve ice cream machine, to oversee the opening of 30 Zesto units when the company decided that it wanted to expand its subsidiary ice cream shops into the Southeast.
Creative Loafing

September 3, 2019
70 and Counting

Zesto Atlanta's family affair marks a milestone of sweet and savory service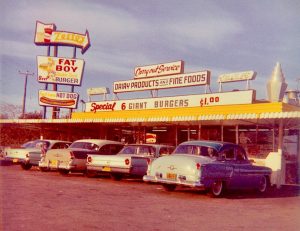 Back in the early 1970s, Jimbo Livaditis played youth baseball at Bagley Park (since renamed Frankie Allen Park) in the Garden Hills neighborhood in Buckhead. With some frequency, on the way home after a game or practice, the parents of Livaditis and his preteen teammates would take their Little Leaguers to the nearby Zesto for an ice cream treat or milkshake.
AJC

July 24, 2019
An Atlanta institution, Zesto marks 70 years of soft serve, memories.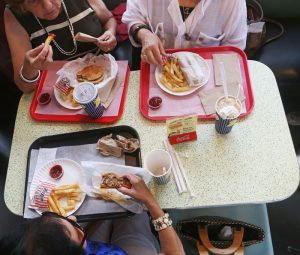 If you like history, especially Atlanta history, check out a Facebook group called You Know You're From Atlanta When. A lot of reminiscing happens there, like a big family reunion where everyone sits around in lawn chairs and waxes poetic with "remember when" stories.
Restaurants of a bygone era are a favorite topic among the group. And, whenever talk turns to local mom-and-pop restaurant chain Zesto, the comments pile up.
Atlanta Magazine

July 16, 2019
Where to get soft serve ice cream in Atlanta

Sometimes ice cream is all you need to make the day a little brighter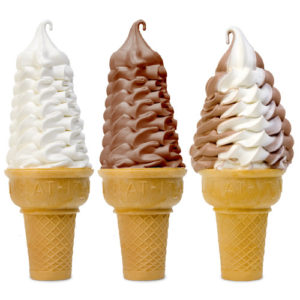 It's sometimes easy to overlook Zesto, the fast food institution that's currently celebrating its 70th anniversary but let us remind you: their soft serve is legit. For about $4 you can get a cone of chocolate, vanilla, or a twist dipped in one of their shells (go for the "brown crown" aka chocolate) and sprinkles or nuts. The serving is massive and equally delicious.
680 The Fan
680The Fan radio spot with Jimbo and Leigh Ann.
Atlanta Traveler

July 9, 2019
Sensational Screamin' Good Ice Cream in Atlanta (and Georgia)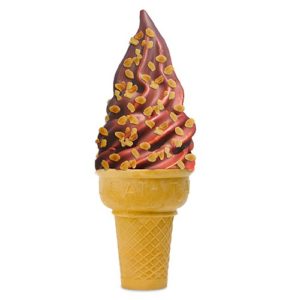 If you like your ice cream a little more old-school, try Zesto's Drive-In (you can also eat-in). Zesto's is a local family-owned business that has milkshakes, malts, floats, and sundaes, but most kids get soft-serve vanilla or chocolate ice cream cone. My favorite is a Nut Brown Crown, your choice of vanilla, chocolate or twist soft serve ice cream dipped in rich milk chocolate that hardens on the ice cream. I like to get mine rolled in nuts too. In addition to good ice cream, I like to support Zesto's because owners Jimmy and Leigh Ann Lividitis are friends of mine and just good people who give a lot to their community. Plus you won't need to take out a loan to buy the family an ice cream here.
Atlanta Intown

July 7, 2019
Happy Birthday, Zesto!

Atlanta ice cream and burger institution celebrates 70 years.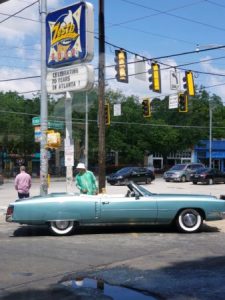 One of Atlanta's true icons, Zesto has been serving signature treats like the Nut Brown Crown (soft serve ice cream dipped in milk chocolate and rolled in dry roasted peanuts), Arctic Swirl cones, milkshakes, sundaes, banana splits, chili dogs and the Chubby Decker, Atlanta's first ever double cheeseburger, for 70 years.
In 1949, Big John Livaditis opened the first Zesto franchise in Atlanta on Peachtree Road across from the Brookwood train station and it was instantly popular. Big John, born in Illinois to Greek parents, sponsored other Greek immigrants to come to the United States to work with him and opened more Zesto locations.
Simply Buckhead

July 3, 2019
Classic Comfort

Zesto rings in 70th anniversary with special menu items and deals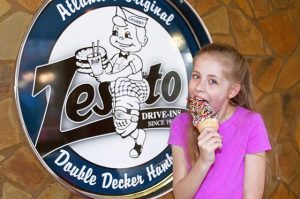 A fixture on Piedmont Road in Buckhead since opening 70 years ago, Zesto Atlanta began its legacy with a menu comprised exclusively of soft serve ice cream that was designed to compete with Dairy Queen. In the mid-1950s, as a move to boost sales, owner John Livaditis added hamburgers as an option and began selling Christmas trees in the parking lot during the winter (an operation Atlantans now recognize as Big John's Christmas Trees.) Four additional locations and even more diverse menu items later, Zesto has become a longstanding Atlanta destination, known for its classic comfort food.
11Alive

July 1, 2019
'We are so grateful'

Atlanta icon Zesto celebrates 70th birthday with 70 cent hotdogs
Still family owned and operated today, Zesto is celebrating its 70th birthday this month with rollback prices on one of its best-selling items.
Northside Neighbor

June 24, 2019
Family Feel

Buckhead's Zesto welcomes old and new as it turns 70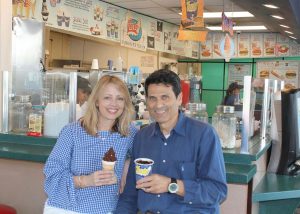 The Zesto restaurant in Buckhead has stood the test of time because it embraces not only the 1950s culture, even down to the Googie architecture, but also the youngest generation.
"I think that it has that unique feel," Vice President Leigh Ann Livaditis said of the eatery, which turns 70 this year. "We're not as famous as The Varsity, but we're that same old-school Atlanta (business). People keep telling me we're an icon. It hit me when that rep from 680 the Fan (radio station) told me it's more about the nostalgic all-American experience that people of all ages crave. I guess Zesto offers a comforting counterpoint to the stress of modern times.
Eater Atlanta

June 13, 2019
Cool Down This Summer With Soft Serve Ice Cream

Where to find soft serve ice cream and frozen custard around ATL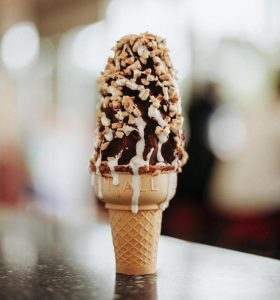 Few foods conjure more memories of childhood and summer than soft serve ice cream. The two seem to go hand-in-hand. Here are a few places around Atlanta to grab a soft serve cone or even frozen custard dipped in chocolate or covered in sprinkles, peanuts, or pralines beyond Dairy Queen.
Zesto's Drive-In has been an Atlanta institution since the first location opened in 1949 on Peachtree Street across from Brookwood Station. That location is gone but, the Piedmont Road shop, opened in the 1950s, is still offering the shop's real deal vanilla and chocolate soft serve. Dip that cake or waffle cone in nuts, chocolate, or butterscotch topping. Other locations include Little Five Points, East Atlanta, Forrest Park, and Tyrone.
Northside Neighbor

May 8, 2019
Immigrant's son established Buckhead institution 70 years ago
In the Zesto on Piedmont Road in Buckhead, owner Jimbo Livaditis is more comfortable introducing the people that work there than talking about himself.
I get it. I find the people with the most interesting stories are often reluctant to have the spotlight shine on them. They didn't get where they are by being in the paper every week or seeking out awards and publicity.
But when he talked about the area back when his father John Livaditis opened this location, Livaditis leaned forward and pointed to where the Zesto was originally less than a block away, toward Lindbergh Drive, when it was a walkup ice cream shop. It had formerly been a Miss Georgia Dairy.
Fox 5

April 27, 2018
Burgers with Buck celebrates ATL Burger Week at Zesto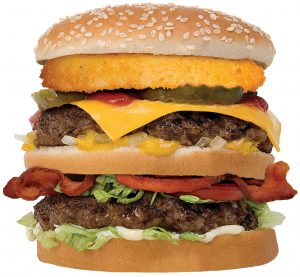 It is an Atlanta institution. Since 1949, Zesto has been serving burgers, fries, rings, ice cream, milkshakes, and a whole lot more in Atlanta.
The Chubby Decker is their signature burger (click on the story to learn how it got its name…pretty interesting), and they bill it as Atlanta's Original Double Decker Hamburger.
For Atlanta Burger Week, they have raised the proverbial bar. In fact, they describe their Chubbiest Decker as a double-decker on steroids. It's big. The Chubbiest Decker consists of two beef patties, bacon, a homemade onion ring, mustard, ketchup, onion, pickle, lettuce, tomato, and cheese.  Did I mention that it's big? And it's good too…
Action News

1979
Col. Harland Sanders enjoys a Zesto milkshake!